There are a few types of emails that Sumac can send:

Sumac can send email notifications to you and other members of your team about activities that happen in your database,
You can launch a one-off email from you to a single contact in your Sumac database,

You can send a bulk email from you to many contacts in your Sumac database, or

You can integrate your Sumac database with external email marketing apps to send mass emails to your contacts (e.g. Constant Contact or MailChimp).
This article explains how to set up your database to send emails, along with the benefits each of these email features provides you.
To start sending emails, or receiving email notifications from Sumac
, you need to set up two things first:
You need to configure your database to send emails (see instructions below).
You need to turn on Email Notifications in your database. Log into Sumac and navigate to Utilities > Email Notifications. Both Sumac Administrators and non-administrator users can set up notifications. Click New to add a new Notification, define the type of notification you'd like, and the email address to which you want this notification sent.
Setting up Email Configuration in Sumac

Go to Utilities > Customize Database > Offices. In Sumac, your Office record holds important information about your organization name, address, and email configuration.

Double-click your Office Name, to edit the email configuration, or click "New" to c
reate a brand new office and fill in the information in the top section. When setting up your Office, the Organization Name is the name of your organization as it appears when you log in to Sumac (see below). The Visible name is what will show on your email communications.


If you have different email accounts you want to use in Sumac, it's a good idea to set up multiple offices! This allows you to configure different email accounts, set up different sender names (e.g. "My organization's newsletter"), or have a separate sending address for your development team, your membership office, and your case management team.

In the bottom section, you'll see Email Settings. There are 3 ways to configure Sumac with your outgoing Email address:
•
The first option is to enter your email's SMTP details. Your Email Service Provider or IT support can provide these. Using SMTP will send email through your email server.
•
The other two options are
Sumac's Gmail or Office 365 integration
. To use either of these options, select the option you want to use and then click Login. Sumac will open your web browser, ask you to log in, and your email account will be connected.

Important Note for Sending Bulk Emails:

Whether you are using your own SMTP server, or your Gmail or Office365 account to send emails through Sumac, your email account likely has some restrictions on the number of emails you can send out over a certain time period. For example, your SMTP server may only allow sending up to 500 emails in one day, or 100 emails per hour.

Sumac allows you to group the emails you are sending into smaller batches to avoid hitting those limits, but you should confirm what the sending limits are for your email server before sending bulk emails in Sumac. Email batch settings are configured in the Office record as well: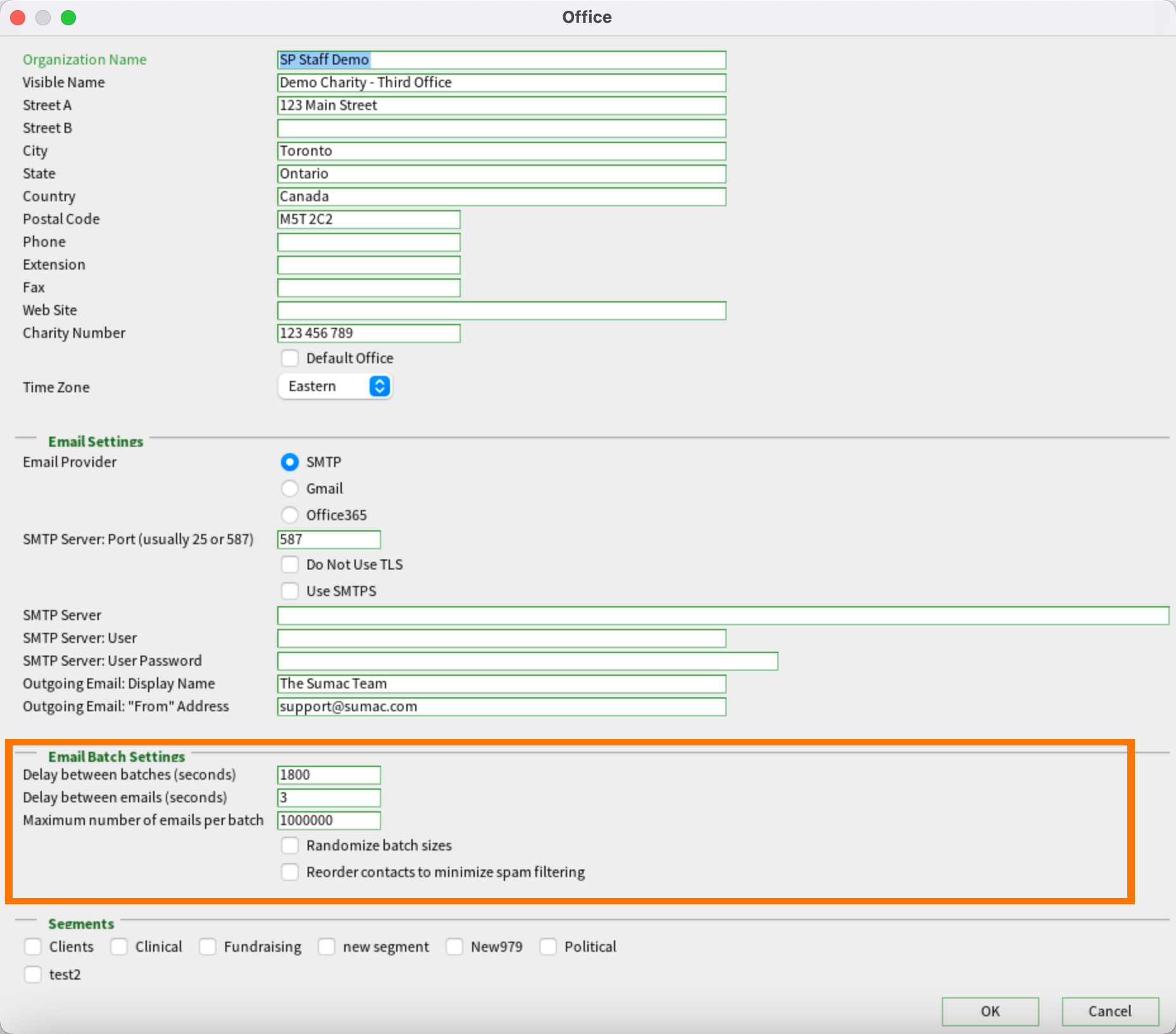 Setting up Email Notifications in Sumac

Your Sumac database can automatically notify users when there are changes to Sumac, for example when:
a contact makes their very first donation to your organization
you receive a donation over a certain amount

you receive a donation to a specific fund, or of a certain type
a new contact is added to the database
a new registration is received


case records are created

volunteers sign up
and more!

They are called "Email Notifications" in Sumac and they can be a very helpful way to stay informed of important activities in your database.


The notifications you can receive depend on the add-ons in your Sumac database.
To set up Email Notifications, go to Utilities > Email Notifications. Click New to add a new Email Notification. You need to provide the description for the notification, while the email subject line will be set by Sumac depending on the type of notification that will be selected. Sumac Administrators can add one or a few email addresses to be notified, separated with a comma. Non-administrator users can only set up notifications for themselves: the "email address to notify" field will be populated automatically for them with the email address on the contact record linked to their Sumac user profile. Non-administrator users will be able to view but not edit other notifications set up by administrators.
Next, put a check mark next to the type of notification you want to see. In the screenshot below, you'll see an example of how to set up an email notification for when a new online donation is received: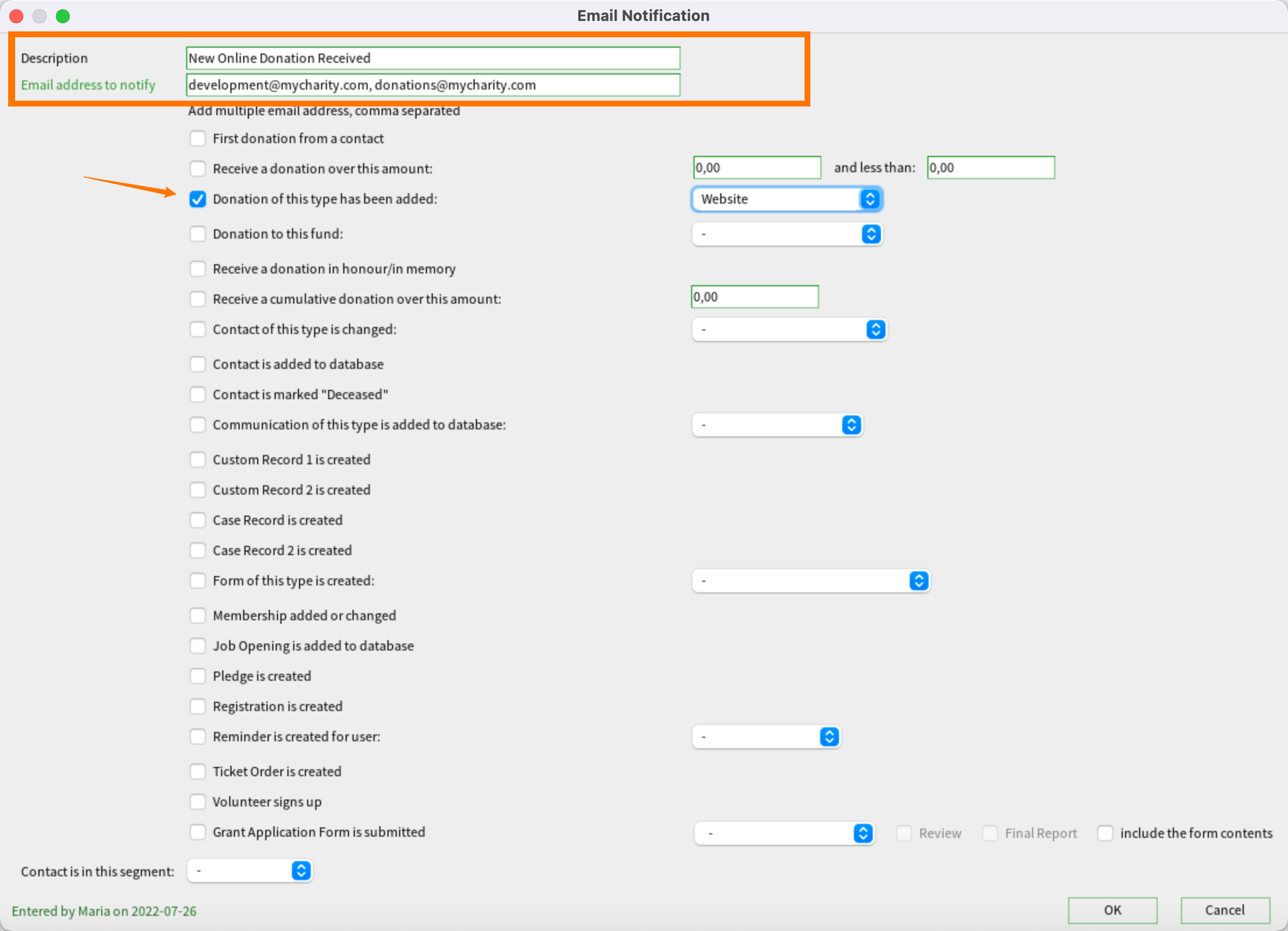 Click OK to save the Email Notification, then continue these steps to set up any other Notifications you and your team want to receive!


It is a good idea to set up individual Email Notifications for each type of notification you want to receive. For example, if you want your Development director to receive an email notification when a contact makes their very first donation, when you receive a donation over $5000, and whenever you receive an online donation, set these up as three separate, unique Email Notifications in Sumac.
You can also personalize Email Notifications with your logo. In order to do that, go to Utilities > Customize Database > Preferences and navigate to the Notifications tab. Here, you can choose the logo file and adjust its height and justification in the email. You have to upload your logo to the Sumac database first to be able to select it (files can be uploaded in Field Values under Utilities > Customize Database).

Sending One-off emails in Sumac

If you want to send a simple email to a single contact, you can do this directly from the contact's record. In the Contact record, go to the appropriate Address tab to find their email address, then click the link icon next to their email address. Sumac will open your computer's default mail program and address an email to them.

Sumac will also open a communication record to remind you to save a record of that email in your database.

Sending a Bulk email in Sumac

When Sumac sends bulk emails, it merges information from the records in your database into an email template. With a typical mail merge, you might use a Word document as your template. With an email, you should use an HTML file as your template. This ensures that colours, fonts, links, images, etc. appear effectively in recipients' email inboxes. This means you need an HTML editor to make those templates.


Sample HTML editors include SeaMonkey or Adobe. To learn more about creating HTML templates,
click here.
Integrating with Email Marketing Applications

Sumac can send your contacts' names and email addresses over to MailChimp, Constant Contact, or CQRC Engage. This makes it easy for you to take advantage of the email marketing capabilities those products provide! Your Sumac Administrator can set up the integration by going to Utilities > Customize Database > Field Values.

Choose the Contacts area and select the "Email Services" Field Values. Click "New" and choose the type of Email Service you want - MailChimp, Constant Contact or CQRC Engage and then fill in the rest of the details.

To learn more about integrating with MailChimp,
click here
.
To learn more about integrating with Constant Contact,
click here
.