How do I make sure my emails don't get marked as spam?
If you are using Sumac to send bulk emails, the best way to ensure the emails you are sending will not be marked as spam is to use Sumac's Batch Scheduling tools to make sure you are conforming to your SMTP server's sending limits, and that you aren't sending too many emails at once.

When sending a bulk email, you can
specify how many emails
go in a batch, and set up delays between batches to help you
conform to your SMTP server's guidelines. Some servers
may specify that you should send no more than 300
emails per hour, or that emails should be sent at least 10 seconds
apart. Using Sumac's Batch Scheduling settings helps to ensure that you do not get
flagged as a spammer for sending too many emails too
quickly.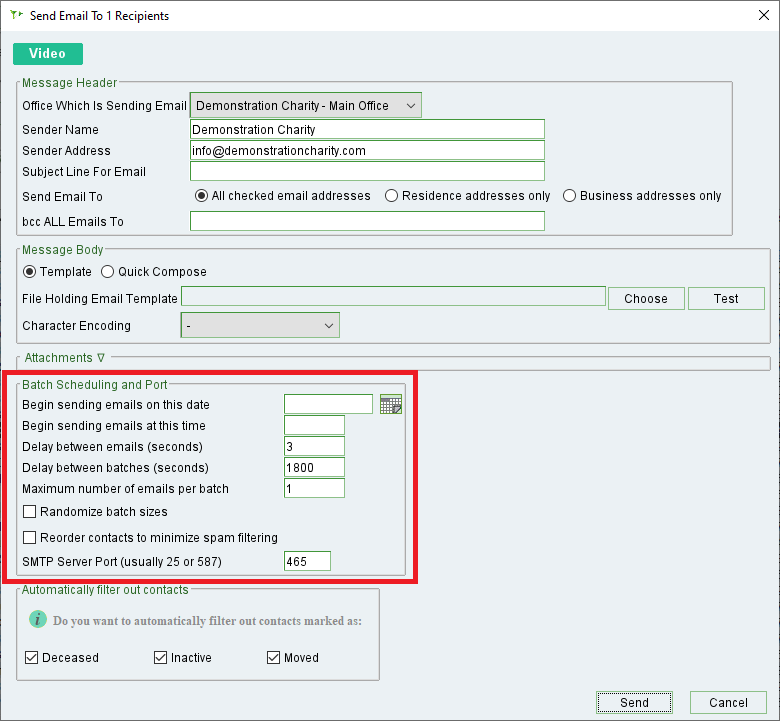 Before you start sending bulk email on a regular
basis, speak to your Internet Service Provider for guidelines
on sending emails to large numbers of contacts so you can set
up your Batch accordingly.
There are a few other ways to ensure the bulk emails you're sending through Sumac don't get marked as spam:
If you are using an SMTP server provided by your Internet Service Provider (ISP), make sure that you tell your ISP that you are a charity and that you are sending email to people who have requested it




Make sure that every email has the ability to unsubscribe

If someone unsubscribes, make sure that you don't send to them again

If some ISP (e.g. Shaw) reports that your email is spam, then the email they bounce back to you normally has a link for you to click to get off their spammers list. Click it and follow their procedure.



If you are using an external email marketing tool to send bulk emails (like MailChimp or Constant Contact), that system typically handles spam reduction and unsubscribe requests for you. If you are using MailChimp or Constant Contact, Sumac does provide an integration that helps you to send your mailing list from Sumac into MailChimp or Constant Contact quickly and easily.
Related Articles

How does sending bulk emails in Sumac work?

When Sumac sends bulk emails, it is essentially running a mail merge to personalize the emails as it sends them out. As such, you need a template that makes up the body of the email you're sending. Sumac combines the template with the data from your ...

How does Sumac handle email unsubscribes?

If you are using Sumac for sending bulk emails, you have two options for handling unsubscribe requests: 1) You can integrate Sumac with your website to add an Unsubscribe page to your website (http://sumac.com/services-website-integration/), which ...

Sending emails and receiving notifications with Sumac

There are a few types of emails that Sumac can send: Sumac can send email notifications to you and other members of your team about activities that happen in your database, You can launch a one-off email from you to a single contact in your Sumac ...

How do I set up Sumac to send emails?

In order to send bulk emails out of your Sumac database, you'll need to give Sumac some information about your mail server so that it knows how to send emails. Have a look at these how-to videos to learn everything about sending bulk emails in Sumac ...

How do I create documents for emailing to my constituents?

Some of this material is also covered in How-to videos. Email Format The body of an email message can be formatted as a plain text document, a picture, or an HTML page. Sumac supports all these formats. Plain text documents can be created using any ...