Sumac has many built-in reports, as well as precise searching and flexible export options to customize your reporting.
Using search and export for custom ad-hoc reporting

Built-in Reports

There are many built-in reports that are useful for the Hospice Case Management module. For more information on basic concepts and built-in reports,
see this video.
Hospice-specific Reporting

Program Usage

There are two easy options for gathering your program usage data to report to funders.

Option 1 is to perform a search and export the data. From the Sumac Console, expand Specialized and select Program Usage.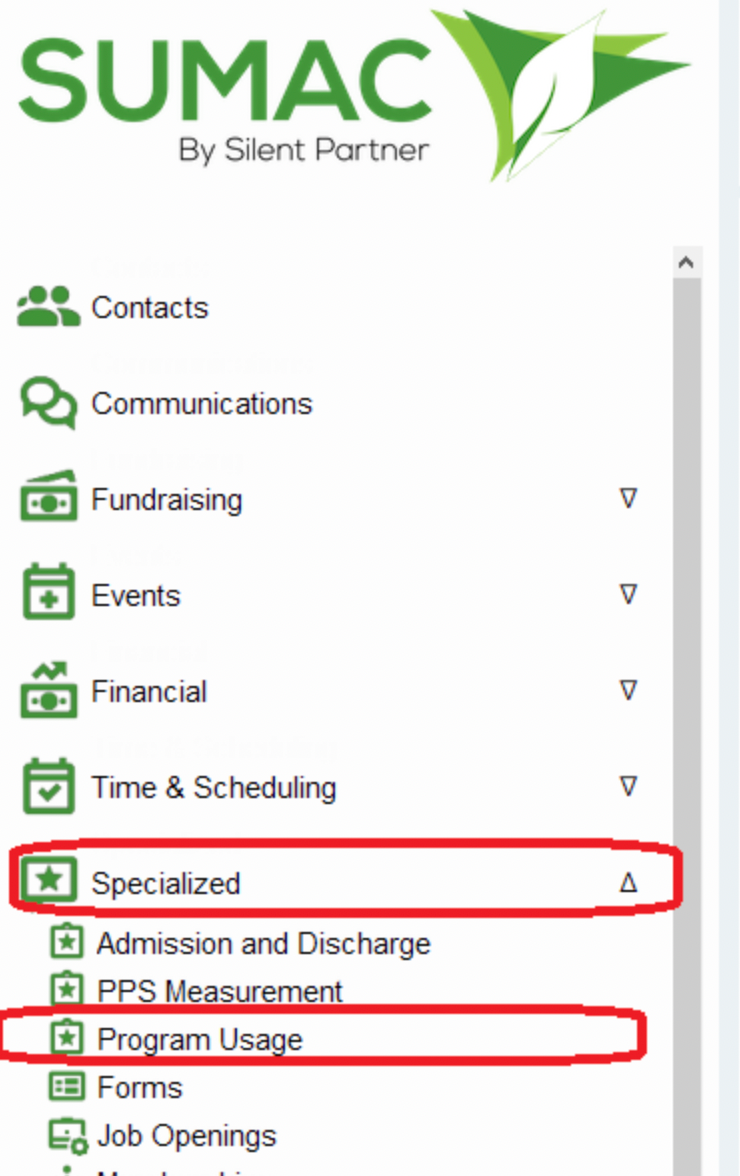 In Search Type, select Program Usage Field, General - Date, and provide a date range. Click Search.

Click the columns button and add the Duration column and Service Provided: Name column by dragging them from the left of the screen to the right.

Click Export in the left-hand menu. Select the file type you wish (ie, comma-separated (.csv) and click "Export."

The result is a spreadsheet that you can use to tally the total service time provided for each service type.


Analyze & Report has been renamed Reports
Option 2

From Specialized, again select Program Usage. You can search by date range or contact type (ie patient vs client), or opt to show all. Then select Quick Count under Analyze and Report. Drag Type of Program: Name, Service Provide: Name, and Duration from the left to the right of the window and click OK.

Click "Quick Count"

This gives you an interesting breakdown. You might discover that 75% of your programs require 2 hour appointments, which means you need to increase the number of service delivery hours one case worker can provide.
Or potentially 75% of your programs require only 30 minute appointments, which means you can increase the number of appointments in a day.
Bed Usage

Go to Specialized and select Admission and Discharge. In Search Type select Admission and Discharge Field and then General - Date of Admission. Set the end date to today, then click the plus sign to add another criteria. Select Admission and Discharge Field and then General - Date of Discharge and check the "is null" checkbox. Search.

In the bottom left corner of the Sumac screen, the Entries in list number indicates how many patients have been admitted but have not yet been discharged.

To determine your occupancy over the course of the year, perform a similar search for Bed Usage (above.) Set your Admission date to greater than or equal to January 1 of the current year, and a Discharge date that is less than or equal to December 31 of the current year.