Before making receipts
ensure that you have a tax receipt and thank you email template ready to use.
If you do not have a tax receipt template, there are
standard tax receipt templates
available on the Sumac website you can customize.

Did you know? Silent Partner Software offers a receipt template service.
Let us create your templates
for you!

We also offer a webinar on making receipts. Go here to find the Sumac Donations series and register for free training.
In most cases you start making receipts by searching for all unreceipted donations. In the Search Type drop-down menu, choose Receipt Status, select Unreceipted, then click Search.
Sumac shows all the donations that have not been receipted and are not either cancelled or marked as non-receiptable.

Important Note: If you are making annual receipts it is important that you search using two key criteria:
- When Received (set the date range for the calendar year you are receipting) AND
- Receipt Status (look for Unreceipted donations).
This will find all the donations received in the calendar year you defined that have not yet been receipted.


Adding an extra filter for Communication Preference will allow you to refine this list of unreceipted donations to only print receipts. It is recommended to process your print receipts first, then process your email receipts.
Next, expand Mailing and click Make Receipts. Sumac lets you know that all the records will be processed and presents unreceipted donations divided into two groups based on whether donors want their receipts annually, or not, and whether or not the donation was part of a pledge. This allows you to generate receipts for only one or
two of these groups if needed.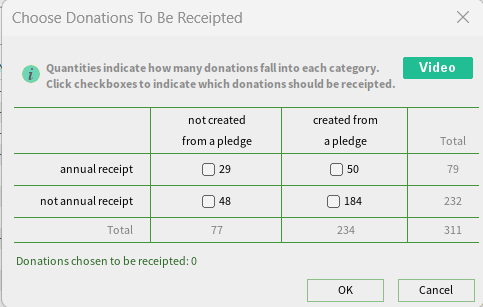 Sumac confirms that the receipt numbers will now be generated and saved to the database. And Sumac confirms that the receipt numbers were assigned to the donations and successfully saved to the database.


Now Sumac needs you to specify a template for creating these tax receipts. If you have saved your tax receipt template in your database, you can select the set of templates you want Sumac to use and click "Use Set."

Alternatively, if you do not have your receipt template saved into the database, and instead have the template saved somewhere on your server or computer, click "Do Not Use Set," and Sumac will bring up a new window where you can click "Choose" and navigate to wherever you have the template stored.
Sumac will present you with some final mail merge options for this batch of receipts.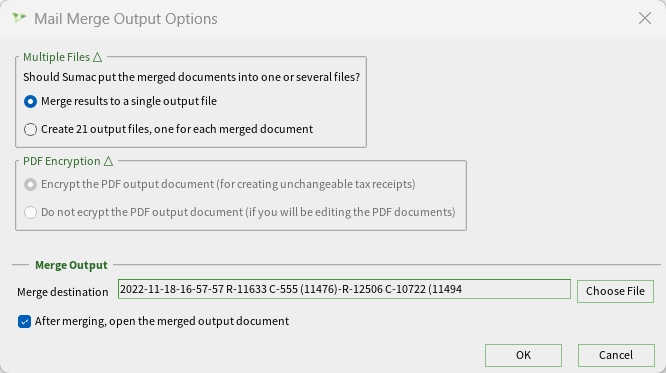 Multiple Files
If you are using an .rtf or .docx file for your receipt template, you can choose to merge all the receipts into a single output file, or into multiple files (a separate document for each receipt). Putting all the receipts in one file makes printing them much easier. But if you intend to email the receipts, then you need to put them in separate files.

Note: If you are using a PDF template, then you do not need to make a selection here. Sumac always merges PDF receipts into separate output files so that these receipts can be emailed to each donor.
PDF Encryption

If you are using PDF template, you should encrypt your receipts. This encryption option produces a receipt document that satisfies some countries' government regulations that require electronic receipts to be unchangeable.

Note: that if you are using an .rtf or .docx file for your receipt template, you do not need to use the PDF Encryption options.
Merge Output
Finally, specify where Sumac should put the receipts that it creates. You may have already set up a folder on your computer or office server where you will save tax receipts. In that case, find that folder and save the receipts there.
If you are saving the receipts to a single output file, you can put a check mark here to tell Sumac to open the receipt file for viewing immediately after it creates the receipts.

Sumac automatically prompts you to save a communication record for every contact you've just made receipts for. If you use a receipt template with a thank you letter attached, saving a communication record when making receipts will record that the thank you letter was sent as well.
Sumac also asks if you wish to record that the donations have been acknowledged. If your organization uses the Acknowledged check box in donation records to mark that acknowledgement has been sent to the donor, you can click "Yes." If you are not using the Acknowledged check box, click No.
If you generated receipts for printing, you can open the saved file and see all your receipts ready to be printed and mailed.
Email receipts
To process your email receipts, follow the steps above. When you reach the point of selecting your template, select your PDF template so that the resulting receipts are un-editable and encrypted. You will NOT be presented with the option to create a single output file. This allows the individual files to be emailed. It is recommended to keep PDF receipts for emailing in a separate file.

The final step is to click the "Email Receipts" button. Sumac will ask which folder you saved the PDF receipts in. Sumac analyzes all the receipt documents in that folder and figures out which receipt belongs to which donor. It shows me the receipts, the corresponding donor, and the email address that Sumac will use to send the receipts to.
Click Start Bulk Email. Sumac confirms it will email receipts to all of these donors. Click "Yes."
Sumac opens the bulk email window where you set the sender name and address, and the subject line for the email. Receipts are sent as attachments - Sumac takes care of that for you. But you do need to choose a template for the body of the email. Select a Thank You letter email template. If you're using Sumac for online donations, you could use the default thank you letter email template that comes included with this. Click Send and Sumac gives you the option of adding a communication record as with Print receipts.

Sumac will tell you how long it will take to send the receipts and in the bottom right corner displays a progress window.


Do not close the progress window and do not log out of Sumac. This will cause the emails to stop sending immediately.