If you are upgrading from a locally hosted database to a cloud hosted database, please first read the section "Upgrade from local installation to a cloud hosted database" at the end of this article.

Step 1: Install Sumac

Follow the instruction here to install Sumac on your computer: http://sumac.com/install/

Step 2: Run Sumac

Once Sumac is installed on your computer, double click the icon on your desktop to run it.

a) When this screen appears, click "Begin"

b) When this window appears, click "Existing Database."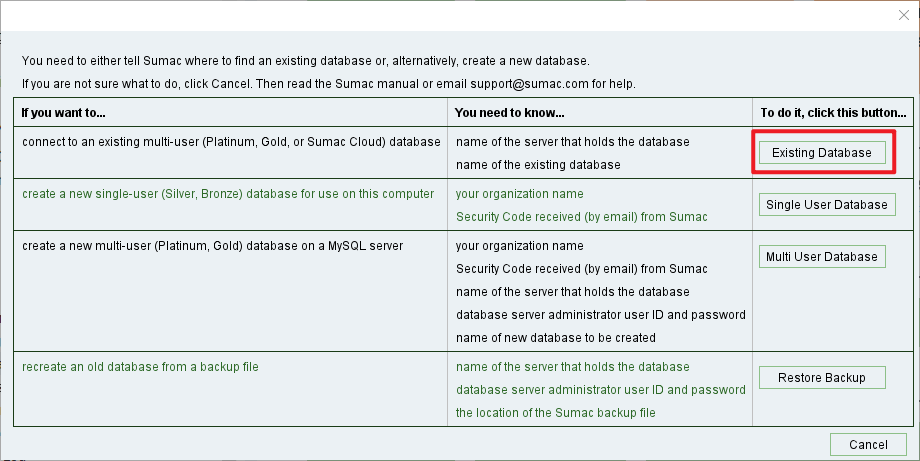 Step 3: Enter database information
We will send you an image that looks like the image below, with details relevant to your organization. If you cannot find that image, please contact us.

Make sure you enter ALL of the information EXACTLY as it appears in the picture we send you directly. Double check to make sure each character matches what you have been sent. If even one character is off, you will not be able to connect to your database.

Step 4: Quit Sumac

Once you have ensured that each character is entered correctly, click "OK", then quit Sumac.

Step 5: Run Sumac again and log on

Double click Sumac to run it again, and log on with your individual username and password.

Once you are logged in, change your password from the default we have given you. To do so click on "Utilities" on your Sumac Console and then click on "Change My Password" near the bottom.


Sumac does not remember your username and password for future use so you will always need to log in. Note down your username and password in a secure location.

Step 6: Create Usernames and Passwords for your colleagues
If you are the administrator of your Sumac database in your organization, you will need to provide each of your colleagues with a username and a password. To do so, see the instructions
here
.
That's it! You're ready to start using your Sumac database!
Troubleshooting

If you run into any issues during the above process, the best option is to restart the process. To do so you will need to find and delete a file called "Databases.txt" in the SumacSettings folder on your computer.

Select the file, once you have located it and delete it.

Then when you are done, go to your desktop and double click on the Sumac icon to run it. You should then be able to continue from Step 2 onward, above.

Upgrade from local installation to a cloud hosted database

If you have recently upgraded your license from a locally hosted database to a cloud hosted database, you may have been sent here to connect to your existing database once it was uploaded to the cloud. You will be connecting to your cloud database from the same Sumac desktop client; the only difference will be that your actual data will be hosted on our servers. As such, you will first need to follow the steps in the Troubleshooting section above so that you Sumac desktop client no longer connects to your locally hosted database. Once that is done, you can follow the instructions above from Step 2 onward.


If you have forgotten your username and password or need help resetting it, please see the instructions
here
.

Make sure you are connecting to your cloud database before entering information into it. Since you will be using the same Sumac desktop client to access it, you want to be sure that you are not entering information into your local database. To double check, on your Sumac console, click on Utilities > Sumac Administration > Show Configuration

At this point the window shown below should open up where the key pieces of information to verify are that the "Database Server" says "cloud.sumac.com" beside it and the database name sent to you in the image, beside "Database Name".