Sumac now offers its own HTML editor - to make it easier and faster for you to create, edit and save your html templates in the database!

In your Sumac Console, navigate to Utilities/Templates and HTML Editor:

Click New to start creating a new HTML template: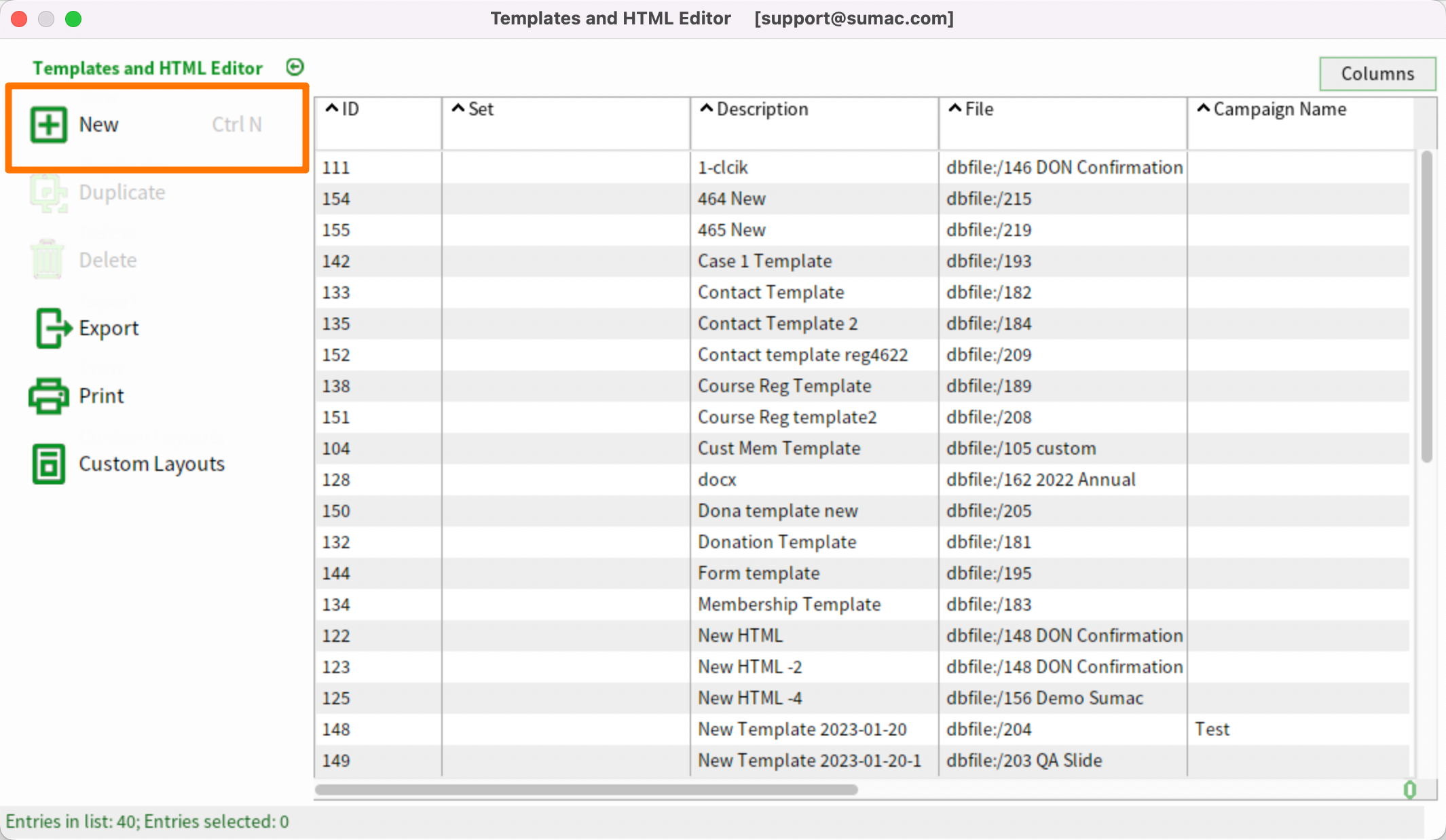 Give it a descriptive name (e.g. Thank You Email), and click "Open HTML Editor":

Next, Sumac will ask you to select the Type of Template that you would like to create. For example, if you are creating a donation thank you letter or acknowledgement, select "Donation"; if you would like to include Membership information, select "Membership"; for Pledges, "Pledge", and so forth. This will determine the set of Mail Merge Codes available to you in the Editor.



Click Start, and Sumac will open the HTML Editor in your default web browser: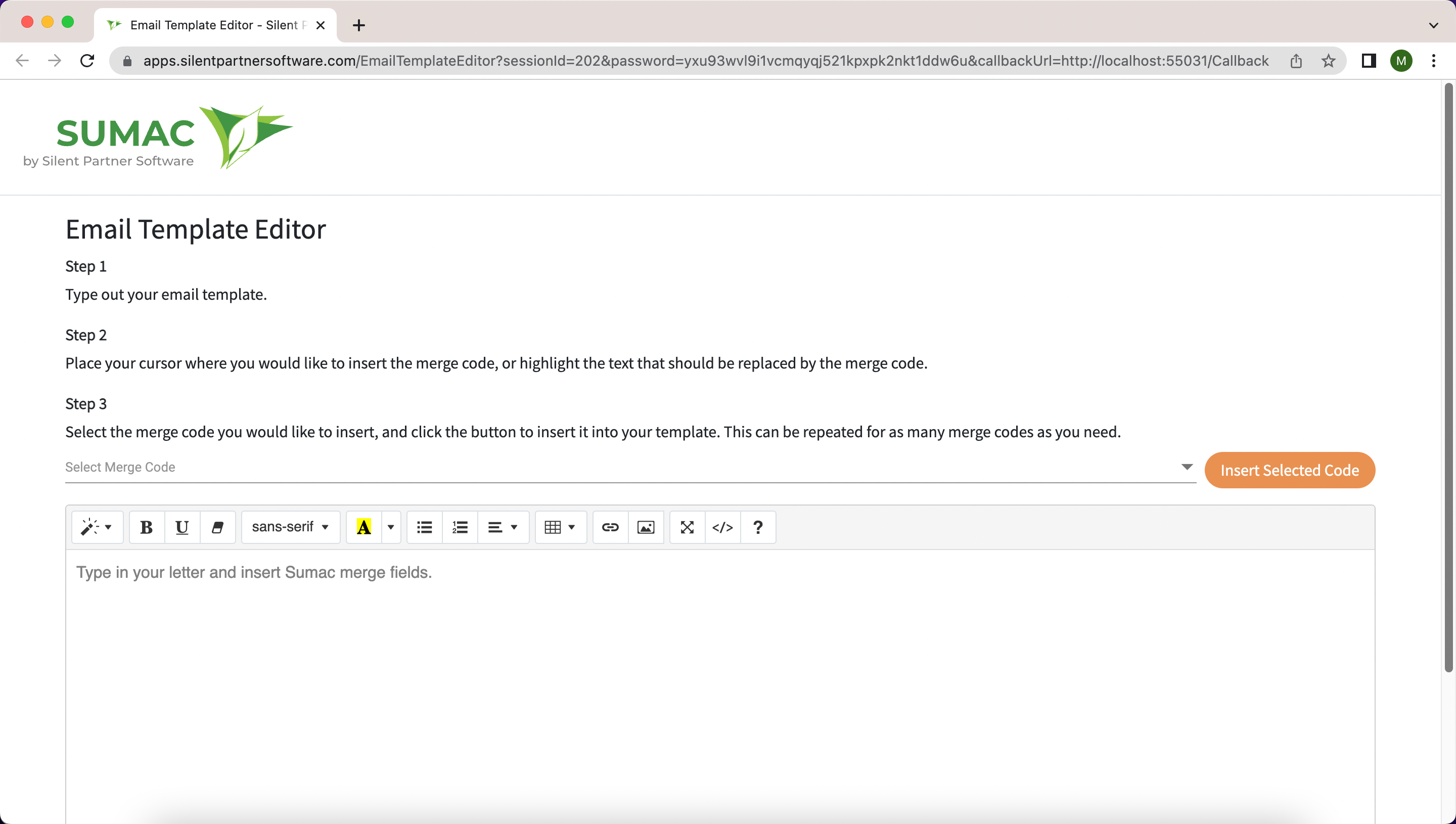 Here, you will be able to type in the text for your email using a variety of font styles and colors; add links and images, adjust the layout and alignment for your template. A great advantage of this Editor is the ability to insert Mail Merge Codes to create personalized content.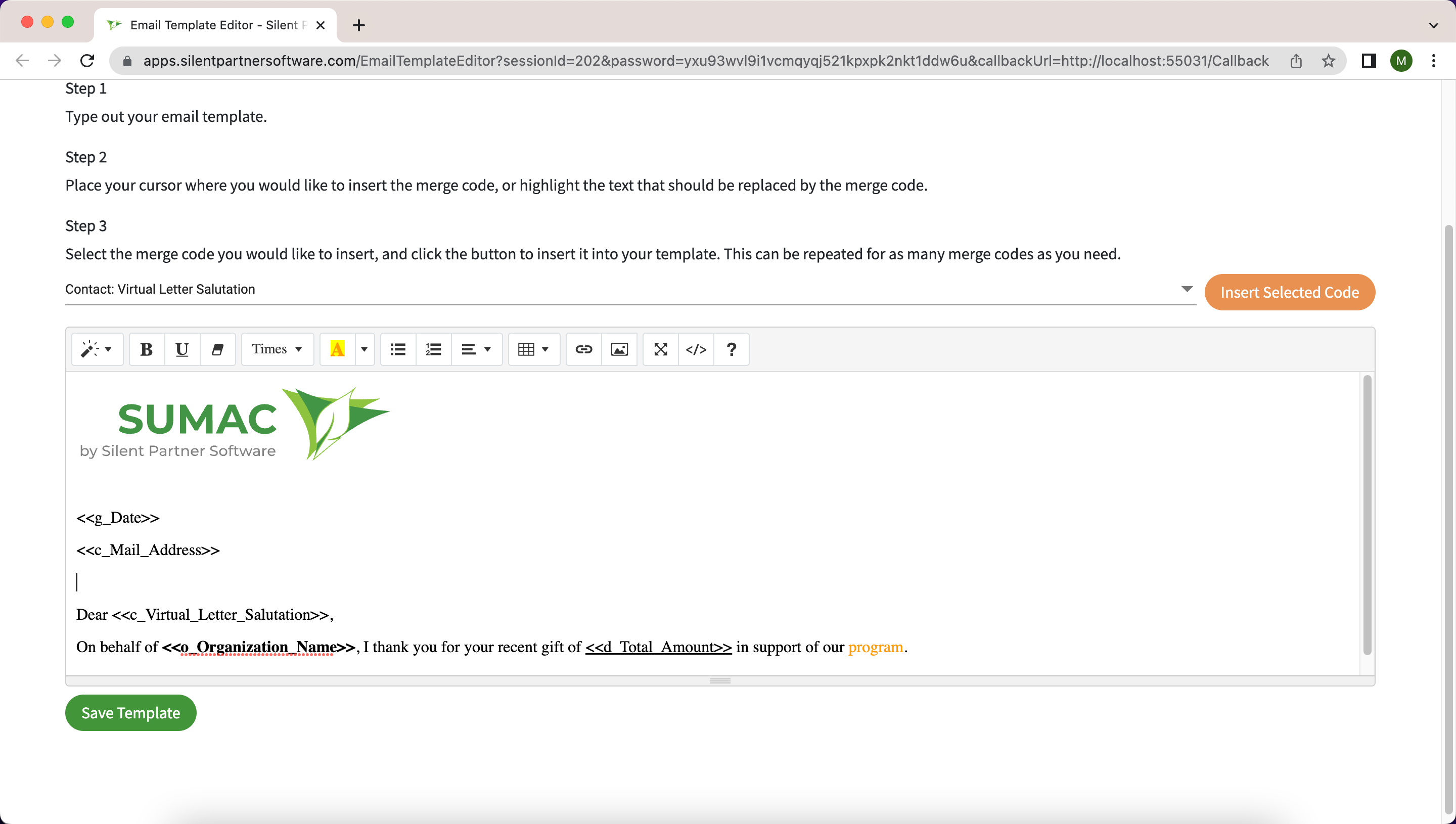 Search for the necessary Mail Merge Code, select it from the drop-down menu and click "Insert Selected Code" to add it to the template: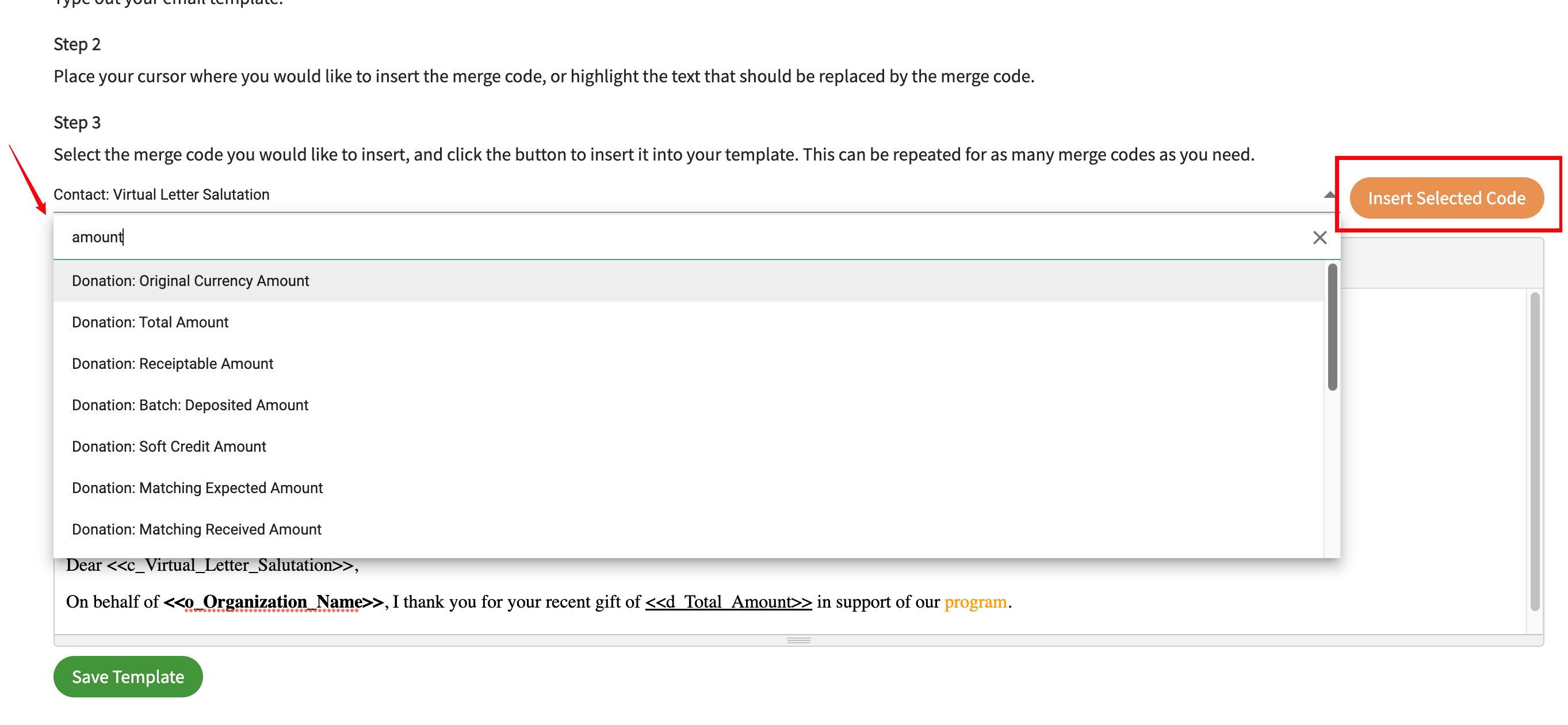 The selection of available Mail Merge Codes will depend on the type of template specified, but the codes with Contact, Office and Miscellaneous data will always be available at the bottom of the list.

Once you're happy with the edits, click "Save Template" at the bottom.


Sumac will let you know that the template has been successfully saved in the database.


Click OK to this message, and OK once again, to close the Email Template window and save the file.
In order to edit an existing template, locate the necessary one in the list of templates, double-click it and click "Open HTML Editor". Then choose the Template Type (Donation, Membership, etc.) and proceed to edit it in the browser window that opens.



Don't forget to test your html template once you've finished editing it!
You could use the Send Email function in Sumac to send an email to yourself or a colleague using your new html template. Alternatively, click the Test button in your Bulk Email window to see what the merged email would look like to the recipient: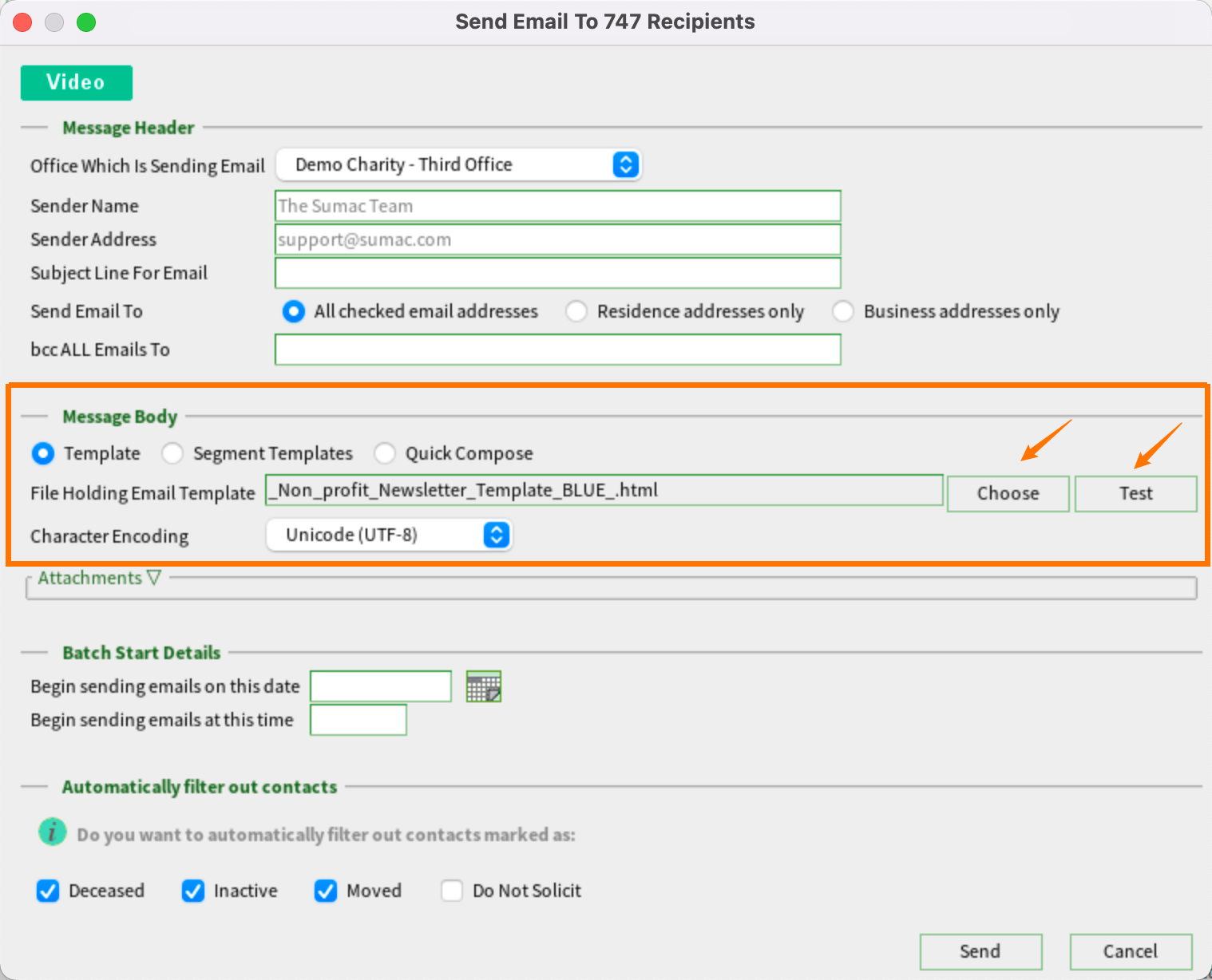 We would love to hear your feedback on how we could enhance the HTML Editor in Sumac! Please let us know at
support@sumac.com
.